COMPARATIVE RELIGIONS 101


PAINTINGS 1994 - 2008


ABOUT


CURRICULUM
VITAE


FIFTY YEARS ARTMAKING


CONTACT






A BRIEF HISTORY
OF SLAVERY


THE
UNAUTHORIZED
HISTORY
OF BASEBALL


ORANGE CRATE
LABEL SERIES


THE DISASTERS OF
WAR


THE CAPRICES


POSTCARDS FROM
CAMP


POSTCARDS FROM
FRANCE


BEN SAKOGUCHI
SPORTS ILLUSTRATED ARCHIVE
Text:
copyright 2006 TIME INC.

AN UNOFFICIAL HISTORY OF BASEBALL
(Orange-crate Style)
There's never been an examination of the national pastime like
the provocative art of Ben Sakoguchi, who has put his own quirky spin on
the game's most enduring moments and characters

By David Davis

Whoever wants to know the heart and mind of America had better learn baseball," critic Jacques Barzun observed in the 1950s. In his wry and entertaining series, The Unauthorized History of Baseball in 100-odd Paintings, artist Ben Sakoguchi (right) shows that the converse could also be true.

Unveiled last winter at Los Angeles City College's Da Vinci Gallery, Unauthorized History honors the national pastime's heroes ( Babe Ruth, Satchel Paige); skewers its villains ( Marge Schott, John Rocker); celebrates its characters ( Casey Stengel, Bill [Spaceman] Lee); and remembers its tragic figures ( Donnie Moore, Glenn Burke). The images are amusing or provocative--and sometimes both. But what's most striking about Unauthorized History is its look: the Pasadena, Calif.-based Sakoguchi adapted the style of orange-crate labels formerly used by California's citrus companies. Beginning in the mid-1880s, colorfully illustrated labels adorned millions of wooden orange crates shipped throughout the world until 1955, when preprinted cardboard boxes replaced the wooden crates and their elegant lithographs. "The labels have this unique sense of style, with beautiful colors and eye-catching typography," says Gordon McClelland, co-author of California Orange Box Labels: An Illustrated History. "They were designed to draw you in."

The 67-year-old Sakoguchi recalls seeing the labels on crates outside his parents' small grocery store in San Bernardino. Years later, while scouring swap meets near his home, he discovered that the 10-by-11-inch images had become coveted collectibles.

Sakoguchi experimented with the format and found that the pastoral elements of the labels made it easier to tackle controversial topics, including AIDS and 9/11. "When I paint with these labels," he says, "it's disarming, no matter the subject. People don't want to be lectured about politics or race, so I use images and colors that soften the blow."

Always evident in his art is what Sakoguchi calls his "feeling of otherness," which came from his experiences growing up in one of the few Asian-American families in San Bernardino. In 1942, after Pearl Harbor was attacked, thousands of Americans of Japanese descent were relocated to camps. With his parents and three siblings, three year-old Ben was interned in Poston, Ariz., for the remainder of the war.

His outsider's perspective gives his work a political bent. "In baseball, the flaws of America and the strengths of America come through," Sakoguchi says. " Jackie Robinson integrated the game way before the rest of society was integrated, but then two players in the Hall of Fame [Tris Speaker and Rogers Hornsby] were members of the Ku Klux Klan."

Sakoguchi says he's a "fan of baseball"--he's particularly fond of the Pittsburgh Pirates, who held their spring training camp in San Bernardino during the early 1950s, when Sakoguchi often accompanied his father to exhibition games. "My father loved baseball," he says. "These paintings honor his memory."

Before he retired in 1997, Sakoguchi spent 33 years teaching art at Pasadena City College--the same school attended by Jackie Robinson, who appears in several of Sakoguchi's works. Now a full-time painter, Sakoguchi recently won a $25,000 grant from the prestigious Flintridge Foundation, and he's already researching his next orange-crate series, about the history of slavery. But he says he has not yet exhausted the topic of baseball, even though he's now produced more than 140 images. "My wife came up with the original title, but we may have to change it," he jokes. "It's going to be The Unauthorized History of Baseball in 200-odd Paintings."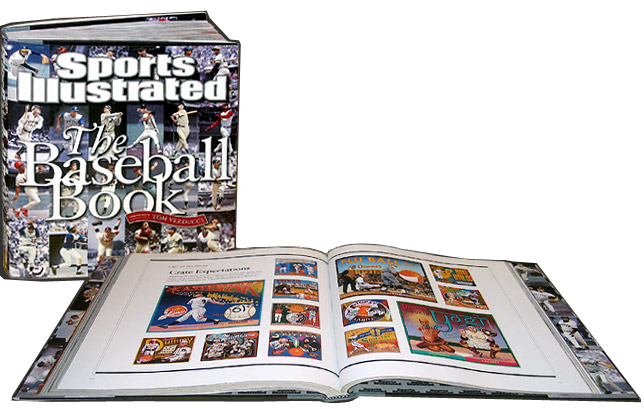 [Comparative Religions 101]
[Paintings 1994-2008] [About] [Curriculum Vitae]
[Fifty Years Artmaking] [Contact]


[A Brief History of Slavery]
[The Unauthorized History of Baseball]
[Orange Crate Label Series]
[The Disasters of War] [The Caprices]
[Postcards from Camp] [Postcards from France]




&copy 2005, 2006, 2008 Ben Sakoguchi